Swine Flu Advice
Swine Flu and Influenze Information & Advice:
Definition:
Swine influenza, or swine flu, is a highly contagious acute respiratory disease of pigs, caused by one of several swine influenza A viruses.
Swine influenza viruses are most commonly of the H1N1 subtype, but other subtypes are also circulating in pigs (e.g., H1N2, H3N1, H3N2)
The H3N2 swine virus was thought to have been originally introduced into pigs by humans.
Sometimes pigs can be infected with more than one virus type at a time, which can allow the genes from these viruses to mix. This can result in an influenza virus containing genes from a number of sources, called a "reassortant" virus.
Although swine influenza viruses are normally species specific and only infect pigs, they do sometimes cross the species barrier to cause disease in humans.
The 2009 Swine flu outbreak in humans is due to a new strain of influenza A virus subtype H1N1 that derives in part from human influenza, avian influenza, and two separate strains of swine influenza.
Modes of Transmission:
Most infections occur among people with direct pig contact.
Sometimes a flu virus can mutate to be more transmissible to humans.
People who work with swine, especially people with intense exposures, are at risk of catching swine influenza if the swine carry a strain able to infect humans.
Swine flu cannot be spread by pork products, since the virus is not transmitted through food
Period of Communicability:
The swine flu in humans is most contagious during the first five days of the illness although some people, most commonly children, can remain contagious for up to ten days.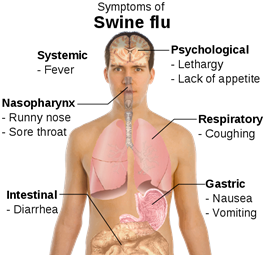 Signs and Symptoms:
The signs and symptoms of swine flu are similar to those of influenza and of influenza-like illness in general:
chills
fever
sore throat
muscle pains
severe headache
coughing
weakness
general discomfort
Safety precautions:
Cover your nose and mouth with a tissue when coughing or sneezing.
Wash hands regularly with soap and water, especially after you cough or sneeze.  Alcohol-based hand cleaners are also effective.
Avoid close contact with sick people.
If sick, self-monitor and stay home from work or school and limit contact with others.
Consult your doctor immediately should signs and symptoms of flu persist.
Regular hand washing reduces the risk of contracting or passing on the influenza virus.
Here at Beeswift we have a range of products to help protect and contain the outbreak of the influenza virus at your workplace.

Products that can be used in Pandemic Response Kits are as follows:

Facial Masks - P2 or P3 Type Mask (Recommended)



B-BRAND P3 VALVED MASK - BBP3V
- Unique "Big Eye" design provides very low breathing resistance due to the increased filtration area.
- Polypropylene (P.P) outer layer provides smooth lining and avoids loose fibers.
- Embossed fringe seal avoids fluffy open layers around the edges.
- Adjustable head strap ensures the best facial seal with minimum leakage.
- Contour design ensures the compatibility of glasses / goggles and reduces fogging.
- Full facial close-cell foam and adjustable nosepiece ensure custom shape and increase the worker comfort and acceptance.
- Protection level FFP3 with exhalation valve.




B-BRAND FOLD FLAT P3 MASK - BBFFP3V
- Maintenance free particulate respirator.
- Polypropylene (P.P) outer layer provides smooth lining and avoids loose fibres.
- Latex free synthetic rubber head strap.
- Contour design ensures the compatibility of glasses / goggles and reduces fogging.
- Soft close-cell nose foam and adjustable nosepiece ensure custom shape and increase the worker comfort and acceptance.
- Soft inner face-seal ring.
- Conforms to EN149 2001 .
For Hazard Type: Fine Toxic dusts, fumes and water-based mists.
Example: Working with hardwood, glass fibres and plastic (non PVC), metalworking and welding
- Protection Level FFP3 with exhalation valve

The valved masks are an excellent way to prevent contracting the swine flu virus from others. However the valved masks are no good at preventing others from getting the virus if the wearer has the virus themselves. The valve allows the exhailed air to escape the confinds of the mask unfiltered and would allow the virus particles through.

Personal Hand Sanitizers - Alcohol Based (No Water Needed)



PURELL® Instant Hand Sanitizer Gel - GJ9606-24
America's #1 instant hand sanitizer. Kills 99.99% of most common germs that may cause illness. Works in as little as 15 seconds. No water or towels needed. Specially formulated with moisturizers to leave hands feeling soft and refreshed. Alcohol-based.




PURELL® Personal Gear Retractable Clip - GJ9608-24
PURELL® is always within reach with the PURELL Personal Gear Retractable Clip. Attaches easily to clothing. Holds a 2 fl oz pump or squeeze bottle of PURELL. Keep your hand sanitizer with you where washing your hands with water may not be possible. Example: in remote locations.
LARGER OUTBREAKS
To help prevent outbreaks in larger areas we have a wide range of apparel for use in washdown areas consisting of disposable boilersuits, disposable gloves and wellingtons. Any queries about the products for use in these situations should be directed to our sales department, where accurate product advice can be given.
Sources of information:
Department of Health
Centers for Disease Control and Prevention
World Health Organization
Wikipedia.org